Seedz Crackers
laptop_chromebook
Website
account_box
Name
Marylin Paterson
work
Job title
Owner / Partner
mark_email_unread
Email address
aod
Phone number
250-919-4572
contact_mail
Street address
1021 - 13th Street South
Cranbrook
BC Canada V1C 1X5
remember_me
Social
Business description
Seedz Crackers, Healthy and Delicious in the same bag. Crackers free of gluten, dairy, sugar and nuts. Keto, Vegan, High Fibre, Low Carb. Seedz sugar-free Chocolate Nuggets containing our roasted 'Seedz' mixture and sugar-free dark chocolate.
Sell sheet
Industry targeted information on business, product line, distribution and ordering details.
No sell sheet is available for this producer.
Product listings from this business
Our zero-waste product that uses the crumbs from our cracker production. Rolled in sugar-free chocolate and sweetened with erythritol. Gluten-free, dairy-free, sugar-free, and nut-free. Product of Seedz Crackers.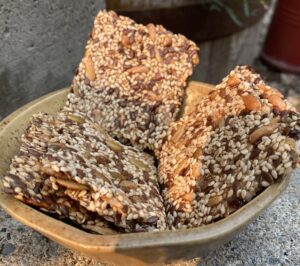 Made from sesame, sunflower, pumpkin, flax, and psyllium seeds. Free of gluten, dairy, sugar, and nuts. High in fiber. Low in carbohydrates. Keto and vegan compatible. Product of Seedz Crackers.