Seedz Crackers
laptop_chromebook
Website
account_box
Name
Marylin Paterson
work
Job title
Owner / Partner
mark_email_unread
Email address
aod
Phone number
250-919-4572
contact_mail
Street address
1021 - 13th Street South
BC Canada V1C 1X5
remember_me
Social
Business description
Seedz Crackers, Healthy and Delicious in the same bag. Crackers free of gluten, dairy, sugar and nuts. Keto, Vegan, High Fibre, Low Carb. Seedz sugar-free Chocolate Nuggets containing our roasted 'Seedz' mixture and sugar-free dark chocolate.
Sell sheet
A one page sheet providing information about the producer and its products.
No sell sheet is available for this producer.
Product listings from this business
Our zero-waste product that uses the crumbs from our cracker production. Rolled in sugar-free chocolate and sweetened with erythritol. Gluten-free, dairy-free, sugar-free, and nut-free.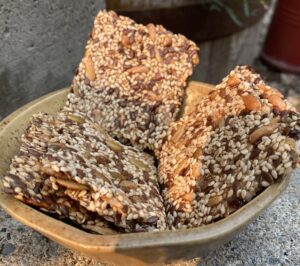 Made from sesame, sunflower, pumpkin, flax, and psyllium seeds. Free of gluten, dairy, sugar, and nuts. High in fiber. Low in carbohydrates. Keto and vegan compatible.