R.J.T. Blueberry Park
laptop_chromebook
Website
account_box
Name
Tina Chow
work
Job title
Owner
mark_email_unread
Email address
aod
Phone number
604-381-4562
contact_mail
Street address
25990 48th Avenue
BC Canada V4W 1J2
remember_me
Social
Business description
R.J.T. Blueberry Park Inc. specializes in the planting, picking, and selection of blueberries and the processing and storing of blueberry products.
Sell sheet
A one page sheet providing information about the producer and its products.
No sell sheet is available for this producer.
Current market channels
Food Service Provider
Catering Company
Meal preparation companies
Product listings from this business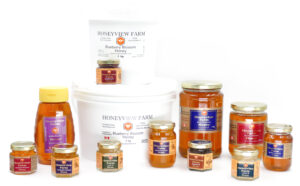 Our honey is 100% natural and no food additives or preservatives have been added. The honey has not been pasteurized.
Grade A blueberries. Our freeze drying method preserves taste, texture, and nutrients. Eat them as a snack, sprinkle onto cereals or add them to any one of your favorite recipes.