Grandpa J's Seasonings
laptop_chromebook
Website
account_box
Name
Jenny Sior
work
Job title
President
mark_email_unread
Email address
aod
Phone number
604-828-7252
contact_mail
Street address
#415 2912 West Broadway
Vancouver
BC Canada V6K 0E9
remember_me
Social
Business description
Seasoning salt manufacturing company located in Vancouver, BC. Bulk wholesale for food service. Retail wholesale for grocers.
Sell sheet
Industry targeted information on business, product line, distribution and ordering details.
No sell sheet is available for this producer.
Current market channels
Other
Catering Company
Universities or Colleges
Processors (direct or via broker)
Public Schools (K-12)
Community Food Programs
Private Schools (K-12)
Major stores
Retirement homes (private)
Independent stores
Correctional facilities
Other government contracts
Food Service Provider
Restaurants (via distributor)
Distributor
Hospitals and long-term care (public)
Online grocery stores
Product listings from this business
Makes a marinade that will create perfect Greek potatoes with a lemony taste. Can also be used to flavour chicken, lamb, humus, or creamy pasta dishes. Product of Grandpa J's Seasonings.
A coarse-grained and plant-based seasoning, which is great with steaks, grilled vegetables, or meat alternatives. Also perfect for Bloody Mary or Bloody Caesar cocktails. Product of Grandpa J's Seasonings.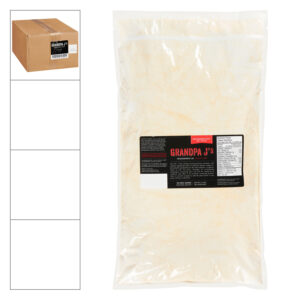 Our best-selling seasoning boosts flavour for all types of meats, fish, poultry, vegetables, and plant-based proteins. Use it as a marinade or a dry rub for grilling, and as a base for sauces, dressings, gravy, marinades, soups, and stews. Product of Grandpa J's Seasonings.